Goes.li refreshed: Version 1612 online.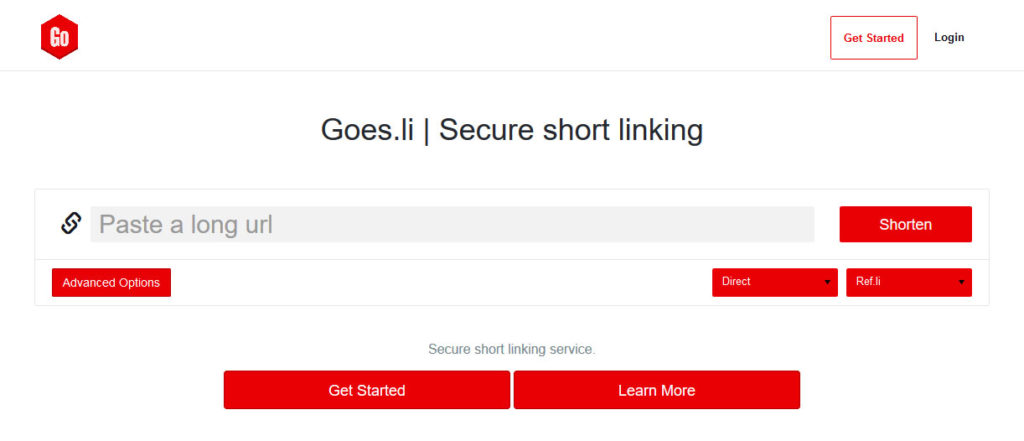 Goes.li got an update to Version 1612. All shortlinks and user accounts are still there.
Awesome features.
Responsive design
Works well on desktop and mobile devices.
Powerful Dashboard
The dashboard lets you control everything. Manage your URLs, create bundles, manage your splash pages (pro feature) and your settings, all from the same place.
Complete Analytics
Track each and every user who clicks a link. The system allows you to track everything. Whether it is the amount of clicks, the country or the referrer, the data is there.
URL Bookmarking System with Bookmarklet
URLs are automatically associated to registered users and are saved on their account for future access. Users can now drag a bookmarklet tool to their bookmarks bar and instantaneously shorten the URL of the site they are viewing.
Anonymous User History
Anonymous users can now keep track of their last 10 URLs without being registered.
Facebook Connect and Twitter Login
User can now instantaneously login using their Facebook or Twitter account.
Translations
The page for now is multi-lingual. The standard language is set to English. You can choose between English, Português, Español, Thai, Deutsch, Pусский and Francais.
Geotargeting System
Users can choose to redirect visitors by same shortlink to a different page using their location.
Advanced API System
Powerful API system requires users to authenticate using a unique API key associated to them upon registration. All URLs generated by a registered user get automatically saved on their account. The API system can output in JSON, JSONP (useful when requesting using javascript) or text format.
Please visit the developer page under https://ref.li/page/developer
URL Validation & reCaptcha Plugin
Extensive validation and URL filtering-system gives you the peace of mind. Several options are built-in to automatically disable "inappropriate" URLs from being processed by the system. The page uses reCaptcha for anonymous users.
Splash Pages (for Pro accounts)
Script now automatically creates dedicated page for media URLs such as Youtube, Vine, Dailymotion, etc. Users can now create custom splash pages.
Goes.li Version 1612