isUp.li: 2-Factor-Authentication available now.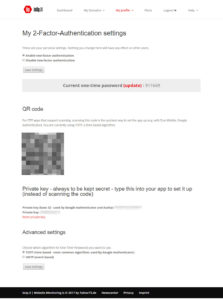 Two-factor authentication (2FA, TFA, or multi-factor authentication) has become one of the best ways to ensure the only person logging into your account is you. 2FA is the next level of security – and it offers better peace of mind.
isUp.li is using 2-Factor-Authentication for login.
You can enable 2FA for your account here: My 2-Factor-Authentication settings (page available if you are logged in right now).
Please visit our FAQ as well: https://www.isup.li/faq/
By default, 2FA is disabled for your account. However, we recommend the use explicitly.